Kagawa lacquerware

[Region] Kagawa Prefecture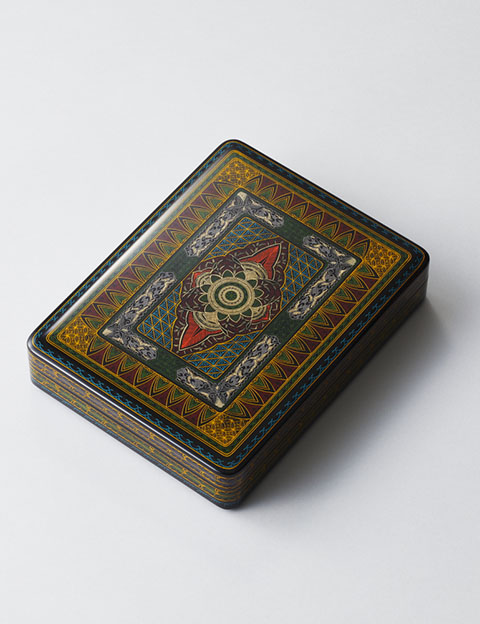 [Summary] Kagawa lacquerware developed under the protection of the feudal lord during the Edo period. In 1638, Lord Yorishige Matsudaira entered the domain from Mito and encouraged lacquerware and sculpture, nurturing many master craftsmen. Among them, Tamakazo Zokoku, who is called the founder, digested the lacquer art techniques of China and Southeast Asia such as konjac, Zonsei, and carved lacquer, developed techniques unique to Japan, and further developed a new technique, Zokoku lacquerware. Since then, the traditional technique has been protected by Taihei Goto, who invented Goto lacquerware, and Joshin Isoi and Kodo Otomaru, who were designated as Living National Treasures. It is produced in Takamatsu City, Marugame City, Sanuki City, Mitoyo City, Kanonji City, Miki Town in Kida County, and Manno Town in Nakatado County in Kagawa Prefecture. They use unique techniques such as kinma, goto lacquerware, zonsei, carved lacquer, and zokoku lacquerware to create products with deep flavor.
【technique】
Choshitsu
It is also called mukibori. In contrast to tsuishu, lacquer is applied over the engraving, in sansaibori, colored lacquer (vermillion, yellow, and green) is applied repeatedly to the wood base, and finally black is applied and polished. We will engrave so that the color will appear according to the pattern. It features many realistic illustrations, delicate carvings, and gorgeous colored lacquer.
Kinma
A special engraving knife called a sword is used to carve a pattern on the lacquer surface, and then the dent is filled with colored lacquer, which is then polished and polished to bring out the beauty of the line engraving. It is believed that the line engraving technique of ancient Chinese lacquerware spread to Southeast Asia and became established as a decoration technique for lacquerware in Thailand and Myanmar. In Japan, Zokoku Tamakaji, a lacquer artist who was active in Sanuki Province in the late Edo period, actively used the konjac technique. there is
Goto Lacquerware
This lacquer was invented by Taihei Goto, a feudal retainer of the Takamatsu domain after the Meiji Restoration. On top of the middle coat of red lacquer, a thin layer of vermillion lacquer was added with a little bit of waxy lacquer to give it an astringent taste. Goto Taihei had a deep knowledge of the tea ceremony, and Goto lacquer ware is elegant and rich in flavor.
Elephant lacquerware
It is called Zokoku lacquerware after its founder, Zokoku Tamakaji. Lacquer is applied repeatedly to the wooden base, and finally, powder of makomo, which grows naturally in ponds and riversides, is sprinkled to finish. It has a deep folk art flavor, and the more it is used, the more it becomes glossy and the more bitter it becomes.
Zonsei
Zonsei draws an appropriate pattern with colored lacquer on the top surface of the finished lacquer, such as black, red, and yellow. Alternatively, the corners are removed with gold paint, or the inside of the carved lines is filled with gold paint. The methods can be roughly divided into the following three.
◯ The outline of the pattern is finely carved and the opening is filled with gold paint.
◯ The outline of the pattern is drawn with a brush in gold paint. ◯ The outline of the pattern is finely carved.
[Living National Treasure]
Joshin Isoi
Born in Takamatsu City, Kagawa Prefecture. After graduating from the Kagawa Prefectural Kogei School (currently Kagawa Prefectural Takamatsu Kogei High School), he was involved in the repair of Chinese lacquerware at Osaka Yamanaka Shokai, and mastered the techniques. In 1909, he returned to Takamatsu and revived Kagawa lacquerware, which had long since lost its manufacturing method, through his own research and established modernization. Known as the founder of the restoration of Sanuki lacquerware. He is also involved in nurturing the next generation at his alma mater's craft school and craft research institute. In 1953, he became a professor at Okayama University. He invented "Tenbori Konma", which is a line carving of Kinma by Tamakazo Zokoku, the founder of Kagawa lacquerware. In 1956 (Showa 31), he was certified as a holder (Living National Treasure) of the Important Intangible Cultural Property "Konjie". In 1961, he was awarded the Medal with Purple Ribbon, and in 1964, he was awarded the Order of the Rising Sun, Gold Rays with Rosette. His disciples include Masami ISOI, his third son, and Tsutomu OTA (both of whom are Living National Treasures).
Seiji Isoi
There are many "hereditary" lacquer arts in Japan. Chinkin makers Mae Omine and Mae Fumio, and lacquer makers Mashiki Masumura and Kiichiro Masumura are two generations of Living National Treasures. Under such circumstances, Isoi's grandfather, Joshin Isoi, and father, Masami Isoi, are both Living National Treasures of Kinma. Tsuji inherited the Makie family line from his great-grandfather Tsuji Hokuyosai the first. After leaving the prefectural lacquerware research institute, Isoi continued his training under his father, and also studied under Mitsuo Nakajima, a lacquer carving artist. The design of konjac, which is sometimes unexpected, stands out, such as expressing the world view of the universe with modern navy blue and green. It is also characterized by the use of "lamination", which is made by stacking plywood plywood and hollowing it out, and "Kentai", which is made by winding cardboard in a spiral.
Masami Isoi
Masami Isoi (1926- ) was born in Takamatsu as the third son of Joshin Isoi. A base material called "Lamination", which is formed by layering plywood. "Renge carving" that creates a softer image using a round knife for wood carving. Ikakeji technique using gold powder and silver powder. Subtle changes in the color tone of the mottled pattern due to the layers of colored lacquer. "Reciprocating engraving" is an application of point engraving using a square sword. A gradation effect that creates a cross section by applying a gradation coating and polishing. At first glance, it looks like a line carving, but it is a creative idea of ​​a mysterious line filled with colored lacquer using a brush. Masami Isoi is a rare artist who has expanded the range of expression of kinma. In contrast to the delicate and gorgeous style of his father, Joshin, the artist reveals himself as "a mood school that makes the most of the classic beauty of lacquer with a new modern sensibility." He symbolically takes familiar subjects such as butterflies and plants that appear in Manyoshu, and uses shapes that are usually difficult to capture, such as the wavering motion of waves and the shimmering air of a heat haze, to create a more profound imaginary landscape. Thus, in 1985, Masami Isoi was designated as an Important Intangible Cultural Property Konma Holder, filling in the 21-year gap that had been lifted after the death of his father, Joshin.
Hitoshi Ota
Born in Okayama City in 1936. Graduated from the Fine Arts Department of the Faculty of Education, Okayama University. While in school, he received guidance from lacquer artist Joshin Isoi, and became an uchideshi for 11 years from 1953, learning lacquer crafts. In 1965, he was selected for the Japan Traditional Art Crafts Exhibition for the first time, and has been selected many times since. Lacquer is applied to a woven bamboo base, a pattern is carved on the lacquered surface with a carving knife, and colored lacquer is embedded and polished. " research. He established his own techniques such as "nunome-bori konjac", inherited the tradition of lacquer art, and pioneered new areas.